Born Free Lions in Newcastle
The Born Free lions are in Newcastle. This dramatic sculpture exhibition is part of a UK wide tour here until 30th June.
Wondering where to find lions in Newcastle? Why not pop into Exhibition Park? It is the new home for the Born Free lions. Don't worry, this pride of bronze lion sculptures is touring the UK to raise awareness of the plight of lions in the wild. It is well worth a visit.
I remember watching the film, Born Free, as a child. The film tells the story of Elsa the lion, one of three motherless lion cubs who was brought up by George Adamson and his wife, Joy. After living with them for years Elsa is freed and taught how to live in the wild. She became part of a wild pride with her own cubs.
The film is a moving portrayal of the plight of lions in the wild. This situation is getting worse. Only 20,000 lions remain in the wild today, a sharp decline from 200,000 a century ago.
Born Free Foundation
The Born Free Foundation began in 1984. Virginia McKenna OBE and Bill Travers OBE, who were the stars in Born Free and many other wildlife films went to London Zoo. They were visiting an elephant calf who was in the film "An Elephant called Slowly" with them. They realised the elephant was in distress and launched a campaign to give her a better life.
Sadly the elephant, Pole Pole, died but the charity Zoo Check was born. This later became Born Free and aims to stop the suffering of animals in the wild or in captivity and create a world where animals and people can coexist.
Born Free Lions in Newcastle
The 25 life-sized bronze lion sculptures have taken up residence in Exhibition Park in Newcastle. Each sculpture represents a real lion, each with its own story which highlights the threats facing lions in the wild and in captivity.
A plaque on the sculptures tells their stories, or you can scan a QR code. Seen from a distance you get a real idea of the beauty of the lions relaxing in their home.
It is particularly poignant that the exhibition is in the North East. Bill Travers, one of the founders of Born Free, is from the area. The exhibition also helps to remember his life, he would have been 100 this year. The Forever Lions fund has been set up in his memory to help raise funds to protect wild lions, resolve human-predator conflict, care for rescued lions, and stop the slaughter of lions for trophy lion hunting.
Lion Sculptures
There are 25 lion sculptures in total which are really beautiful and capture the essence of the lions. A lot of work has obviously gone into the sculptures. There is a mix of lion cubs and larger lions, with the star of the exhibition being Elsa the lion on top of a 4×4.
You will find the sculptures near the Urban Green Cafe, a short walk from the park entrance on Claremont Road.
The exhibition is popular, there were plenty of people of all ages enjoying the lion pride.
Each lion has its own story and the lion above, Hilts, was born in a lion breeding facility in South Africa. After being born he was taken from his mother and hand-reared. Tourists would take photos walking him and posing with him.
When he got too old to pose with tourists he would be forced to breed. Luckily before he could be used for canned hunting, where people pay to shoot lions and their body parts are used in medicines, he was rescued and is now safe and happy.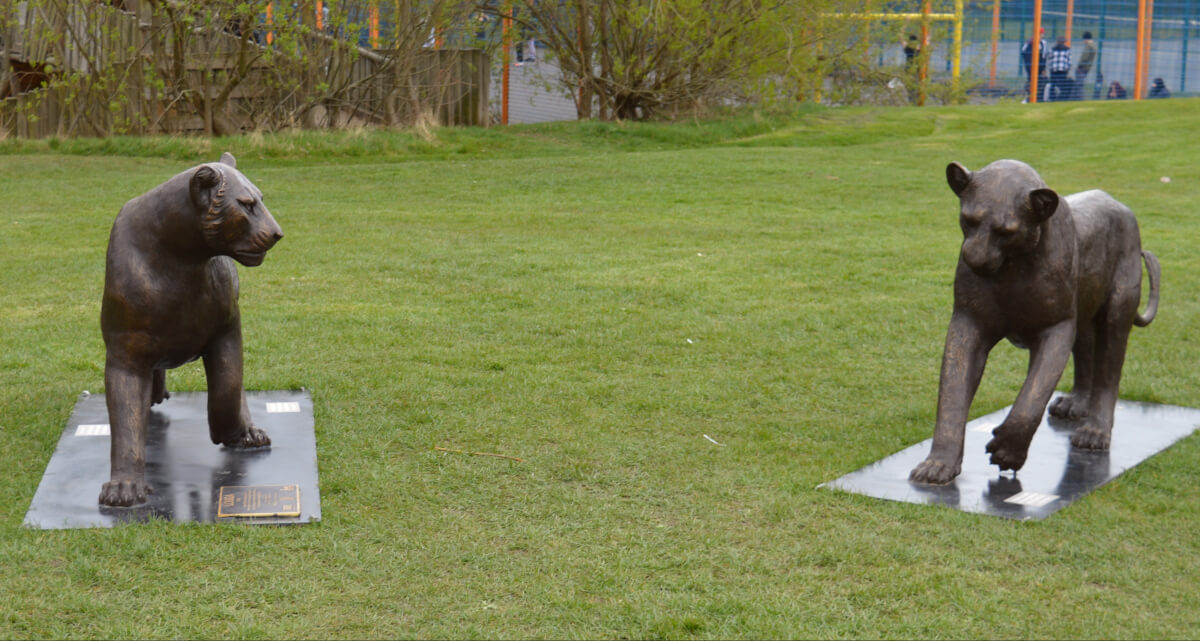 The lion above, Louga was living in a circus with three other lionesses in cramped conditions. He had to perform tricks in front of large audiences. Although he is 13 he has no mane because his owner castrated him to make him easier to handle. He is currently in a rescue centre in Lyon until he can move to the big cat sanctuary.
Where are the Real Born Free Lions?
There are two big cat sanctuaries that are home to the Born Free lions. You will find them in the Shamwari Private Game Reserve in Eastern Cape, South Africa.
Where is Exhibition Park, Newcastle?
Exhibition Park is a large park in the centre of Newcastle. You will find it on Claremont Road.
Address for the Sat Nav:
Claremont Rd,
Newcastle upon Tyne
NE2 4PZ
Exhibition Park is about a ten-minute walk from Haymarket metro and Haymarket bus station.
Parking at Exhibition Park
There are some pay and display car parks within walking distance of Exhibition Park. You can also pay to park along Claremont Road.
If you enjoyed this post you may also like: