Regional Recipes: Canal or Bacon Floddies
Canal floddies or bacon floddies are a traditional breakfast dish from North East England. Cheap and easy to make they will set you up for the morning.
Cold January mornings can leave you feeling a little bleak. Christmas has been and gone. Mornings are still dark and frosty, making it hard to get up.
A nice warm breakfast is a perfect way to start the day. It lets you face the cold feeling full and content. Canal floddies make an ideal breakfast on these colder days. They are cheap and quick to make but leave you feeling full.
What is a floddie?
Floddies are a type of potato cake, a distant relation to the Germanic rosti. They are made from grated potato rather than mashed which makes them quicker to make. Ingredients also include grated onion, flour and a little streaky bacon. This is a dish to make a little bacon go a long way. A dish of the poor which will fill the stomach for the hard days work ahead.
Mix the ingredients with an egg to bind them together and a little seasoning. Drop a dollop of the mixture into a hot pan and flatten. Cook until golden on both sides and serve with an egg.
Read more: Ulster potato cakes
Canal or bacon floddies
Canal or bacon floddies were a common breakfast in the North East, particularity Durham and Gateshead, in the 19th Century. This was the time of the Industrial Revolution. In the North East at this time men would be working in mines, on the shipyards and building canals. These were jobs that required hard work. Cheap filling food kept them fuelled for the hard days ahead.
Read more: Traditional recipes from North East England
Bacon floddies were perfect for breakfasts. Cheap local ingredients go into them, potatoes, onions, bacon, eggs and flour. Wild herbs are sometimes thrown into the mixture for a little flavour. The dish became popular with navvies digging the canals. They would make them and cook them on their shovels over a fire. This is where they got the name canal floddies. You don't need to use a shovel, a frying pan will work just as well.
Potato floddies were popular during the second world war. Rationing meant food was scarce. Potatoes and bread were always the staple food of poor people. During the war the government discouraged the consumption of bread. Flour was an import and hard to get. To encourage people to eat potatoes the cartoon character Potato Pete was created. He appeared in leaflets giving advice on cooking and growing potatoes.
Potato floddies do not contain bacon. To make a sweet dish they were spread with jam. The addition of mixed herbs made a savoury dish.
Canal Floddies recipe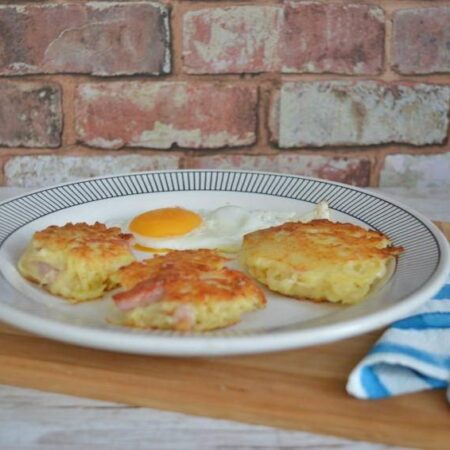 Canal or bacon floddies
Canal or bacon floddies are a potato cake with onion and bacon. They are a traditional recipe from North East England usually served for breakfast
Ingredients
1

large

potato

1

large

onion

1

egg

25

g

self raising flour

75g

streaky bacon

salt and pepper to season

oil for frying
Instructions
Grate the potato and squeeze out any liquid

Grate the onion and add to the potato with the chopped bacon


Beat the egg and add to the potato mixture with the flour


Stir well and season


Heat the oil in the pan


Drop spoonfuls of the mixture into the pan and flatten


Cook slowly until both sides are golden brown

Why not pin the recipe for later?
Have you ever tried canal floddies? Let me know below.