Lamb and Lentil Stew Recipe
If you are looking for a delicious and easy lamb and lentil stew this recipe is all you need! Delicious fall apart lamb with plenty of vegetables, it will please all the family. Cook in one pot, or a crockpot.
This lamb and lentil stew is so easy to make that even if you are not an experienced cook you will make something delicious. It is full of seasonal vegetables and is perfect for a blustery spring day when it's sunny outside but still chilly.
The dish is made in one pot on the stove (or you can use a slow cooker) so there is less washing up. This hearty lamb stew is a meal in itself and so satisfying.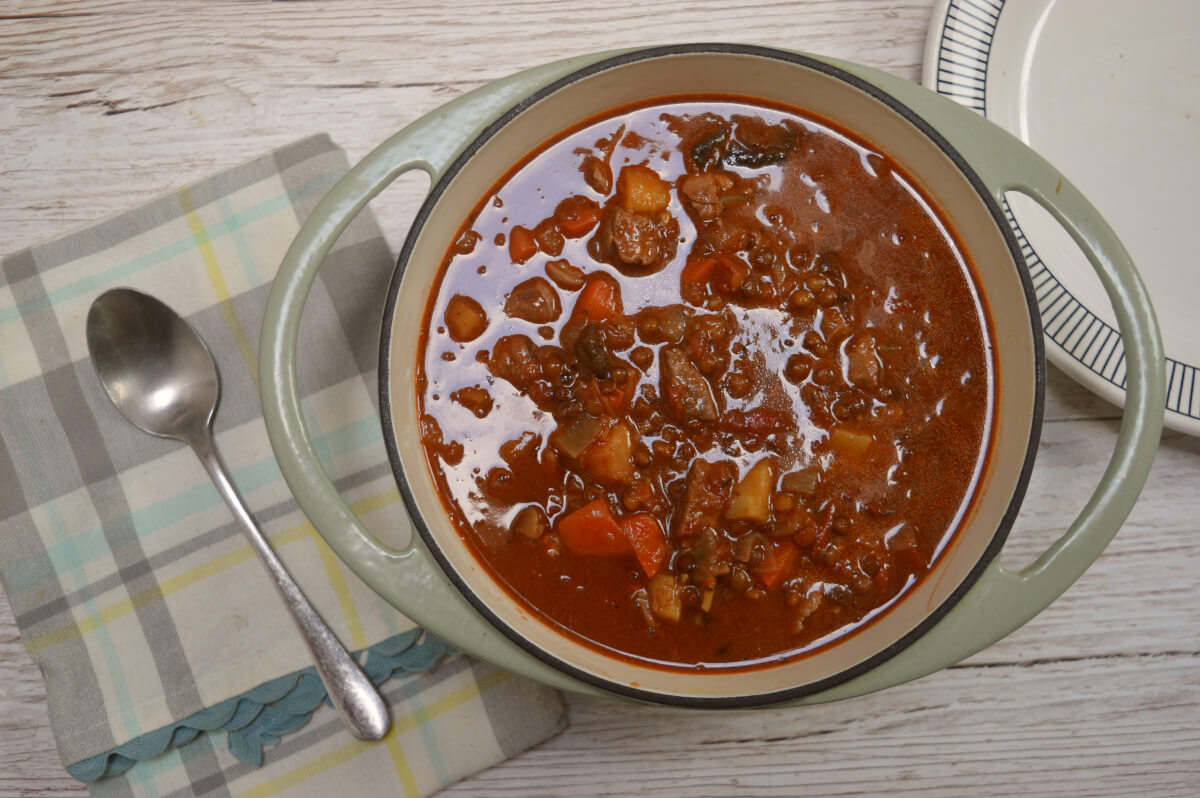 What is in lamb and lentil stew?
The main ingredients in the lamb and lentil stew are lamb and casserole vegetables. I chose onions, mushrooms, turnips, parsnips, and carrots as I had these in. You can mix it up and use what is in your fridge or just buy a casserole vegetable pack from the supermarket.
The other main ingredient is green lentils. The whole stew is given a rich deep flavor with the addition of a tin of tomatoes and some lamb stock.
What cut of lamb should I use for the lamb stew?
Both lamb shoulder or leg of lamb work perfectly in a stew or casserole when you dice them.
I use boneless leg meat as this is readily available in shops and easy to dice. Lamb leg is lower in fat and has a great flavour. When you cook it slowly at a low temperature it becomes tender and melts in the mouth.
You can use lamb shoulder instead, but you may need to trim off the excess fat before you use it.
You will need to trim excess fat from the meat if you are using lamb shoulder. If you are not able to get lamb you could use beef instead.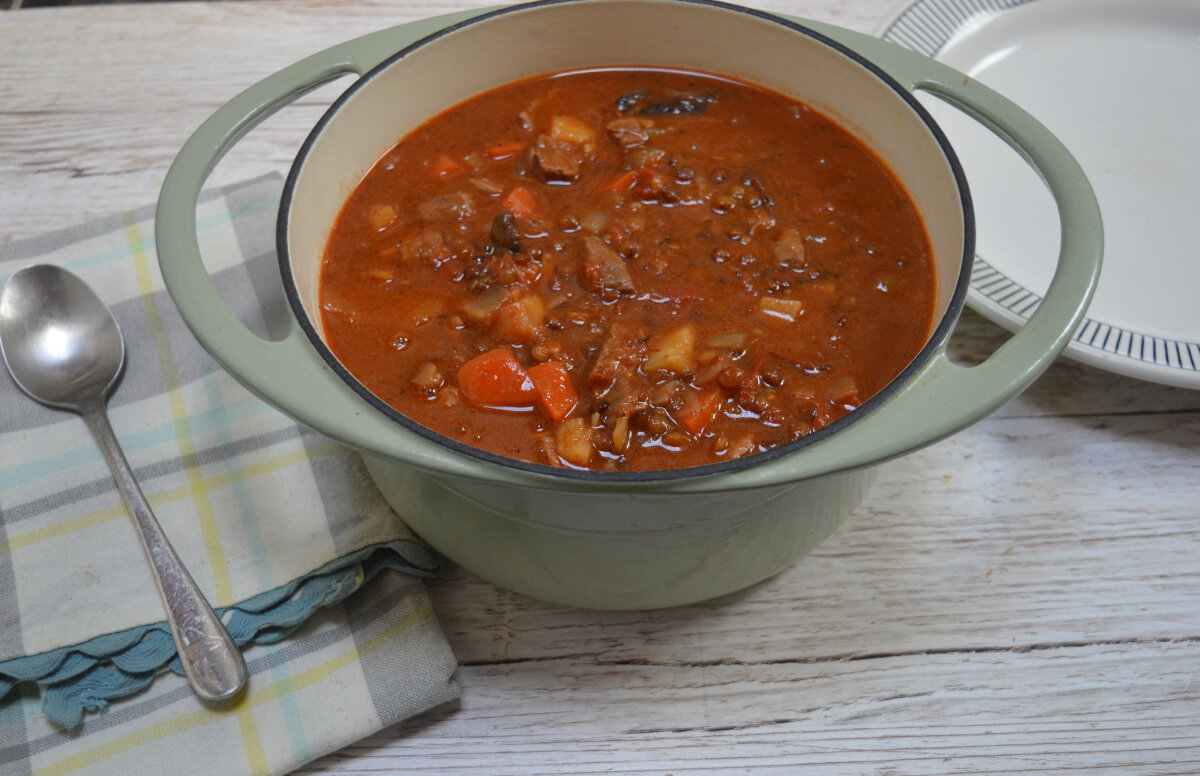 What sort of lentils should I use?
I chose to use green lentils as these have a more earthy flavour and do not disintegrate with the longer cooking time. Red lentils will work as well, you may find they lose their consistency when cooking.
Braising the meat
The best way to start making this lamb and lentil casserole is to braise the meat. Braising just means browning the meat in a little oil before you start cooking it. Just add some oil to your pan and put it on a warm ring. When the oil is sizzling add the diced meat. Cook until the meat is nicely brown on all sides. This will seal in the meat juices and make the stew more flavourful.
Step by step instructions
These instructions show you the steps you need to follow to make lamb and lentil stew. Don't forget to scroll down to get the complete printable recipe.
Brown the meat in a pan.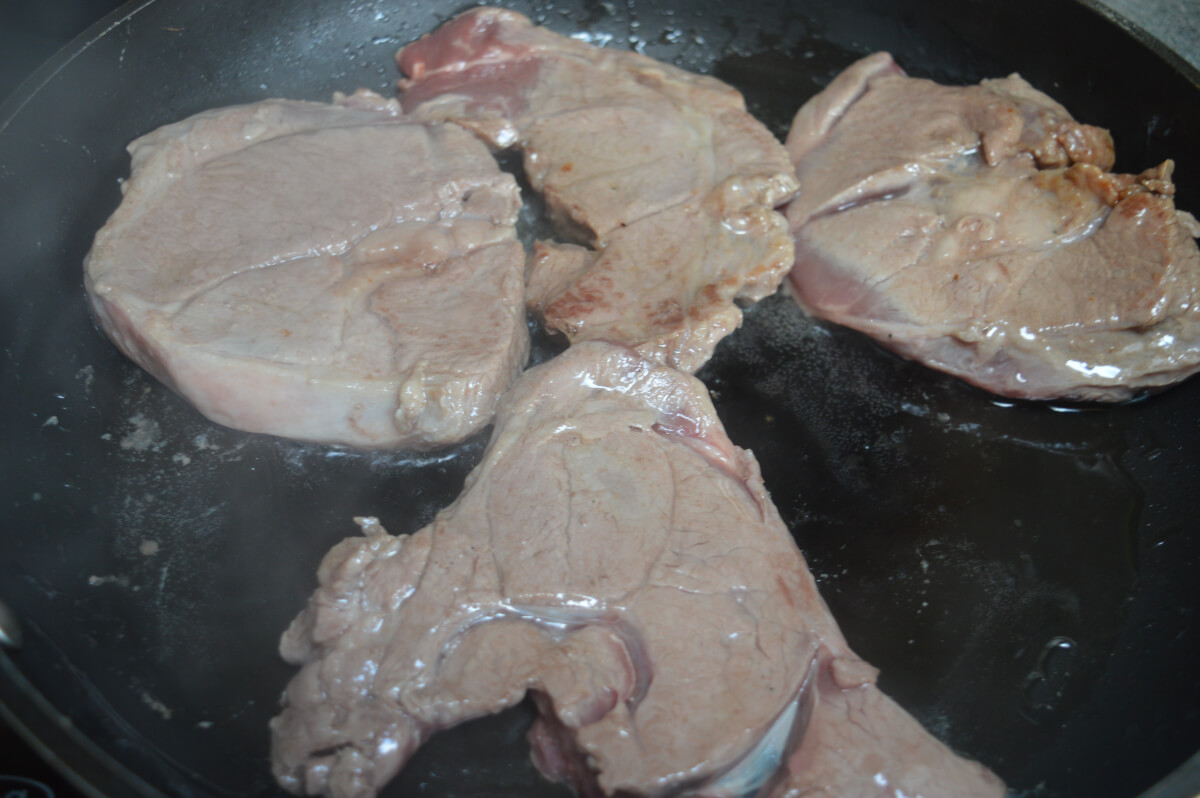 After the meat is brown you may need to transfer it into a larger pan to make sure there is room for the other ingredients. Chop the meat into bite-sized pieces.
Stir the flour into the meat. This will help thicken the sauce.
Peel the vegetables and chop into bite sized chunks. Stir these into the pan.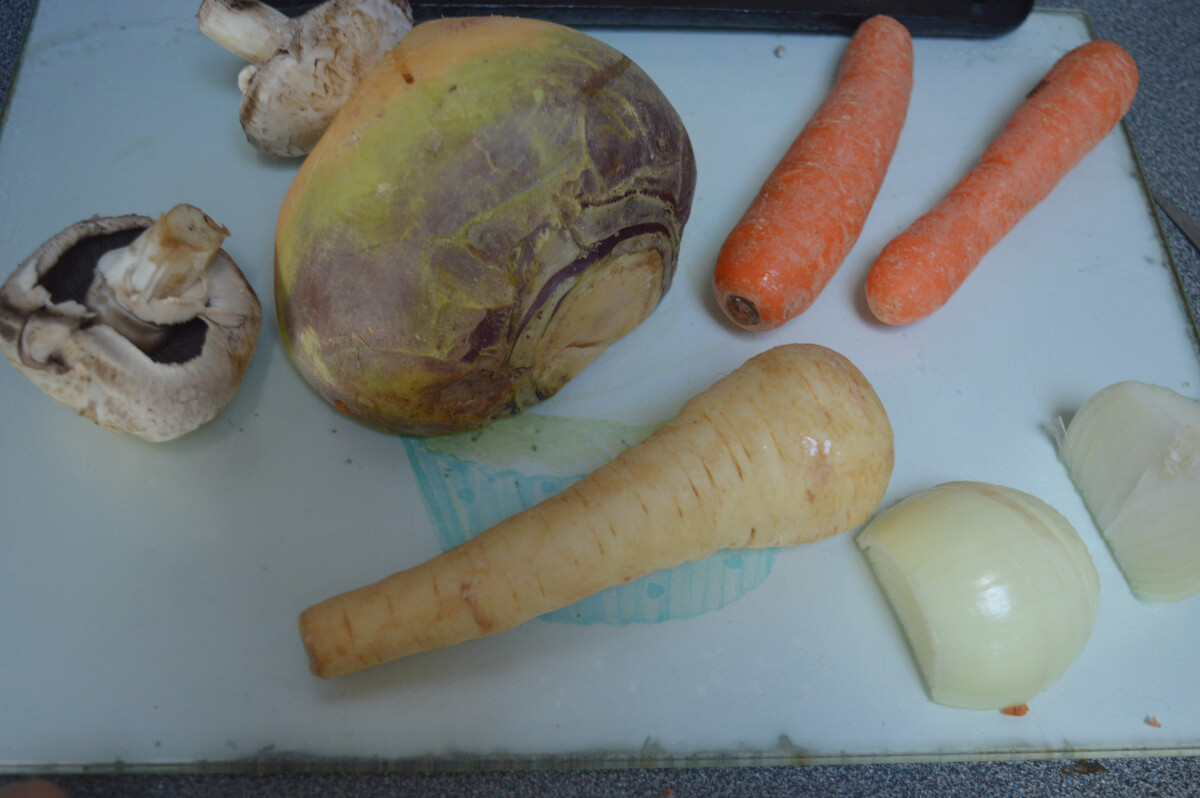 Add the tin of tomatoes and the stock.
Simmer on the stove, covered, for an hour and a half. Stir occasionally and add water if necessary.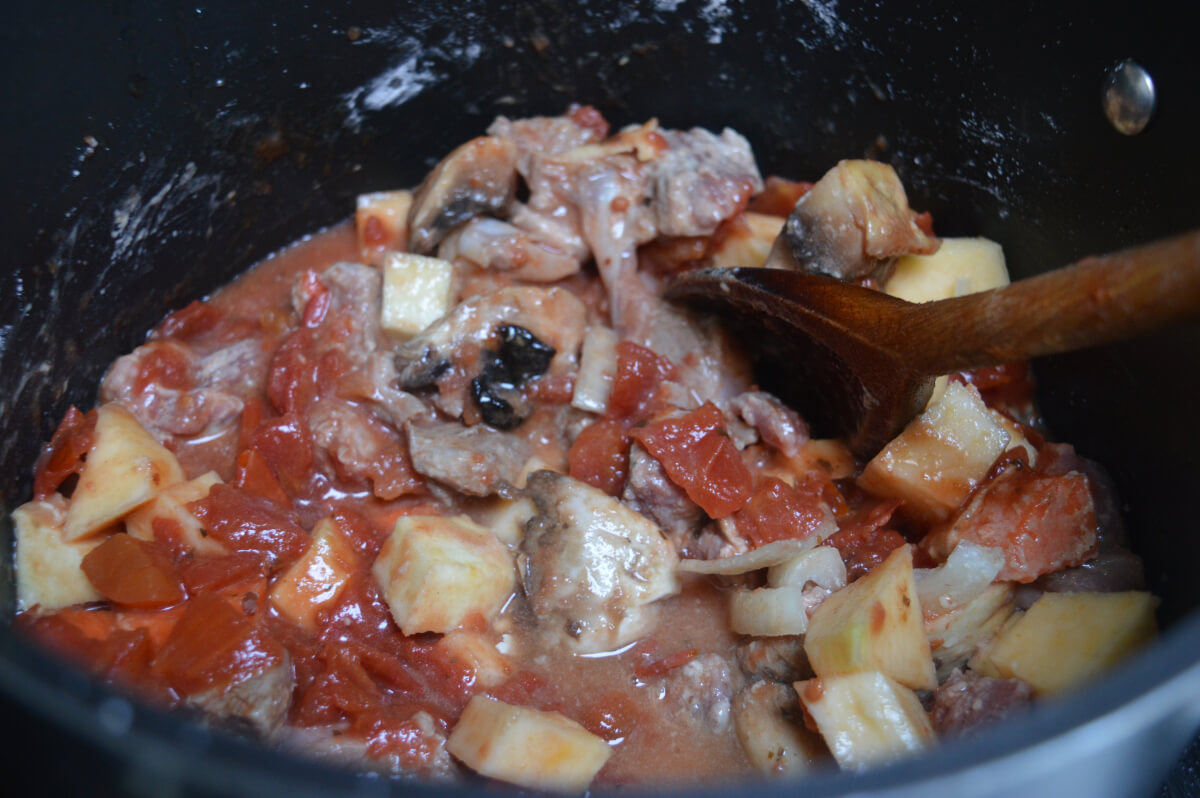 While the stew is simmering rinse the lentils and then boil them for ten minutes.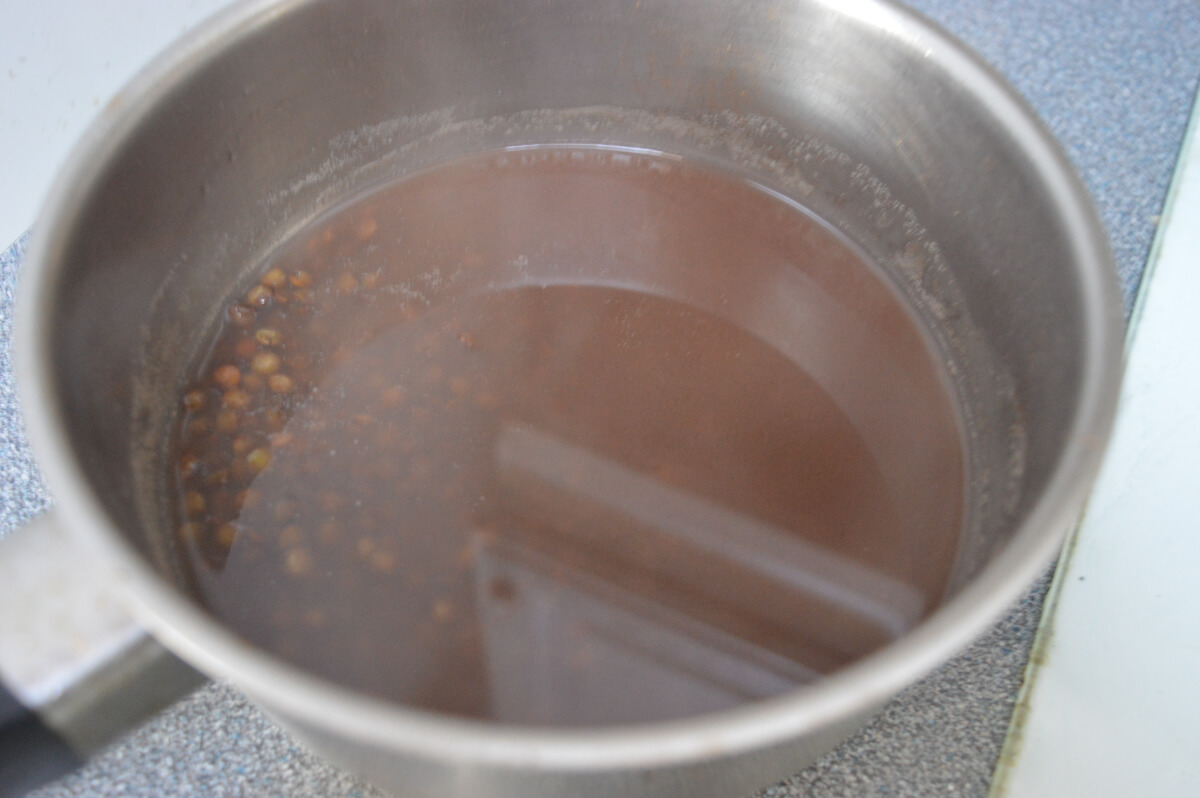 Add the lentils to the stew for the last 35 minutes of the cooking time.
Why not pin for later?
Lamb and lentil stew recipe
Lamb and lentil stew
This is an easy one pot lamb and lentil stew. Filling and hearty, it is the perfect meal for a blustery spring day
Equipment
Large pan

Sharp knife

Small pan

Tablespoon

Measuring Jug

Sharp knife
Ingredients
1

tbsp

oil

550

g

lean lamb

1

level tbsp flour

4

mushrooms

1

onion

2

carrots

2

parsnips

½

turnip

400

g

can of chopped tomatoes

1

lamb or beef stock cube

125

g

dried green lentils
Instructions
Heat the oil in a pan and cook the lamb until it is browned. Transfer to a larger pan (or slow cooker) and stir in the flour.

Cut the vegetables to bite-sized chunks and add them to the pan with the tomatoes.

Dissolve the stock in 400ml hot water and add to the pan

Cover and simmer gently for an hour and a half, stir occasionally, and add a little water if needed.

Rinse the lentils, boil for 10 minutes and add to the pan for the last 35 minutes
Can I make it ahead of time?
Like most stews, you can make it ahead of time and store it in the fridge or freezer without losing any of the flavour. This will save you time on a busy day. Make it and then leave it to cool and store it in the refrigerator. It will be fine for a couple of days.
You can reheat it in the oven or on the hob. You may need to add a little extra water.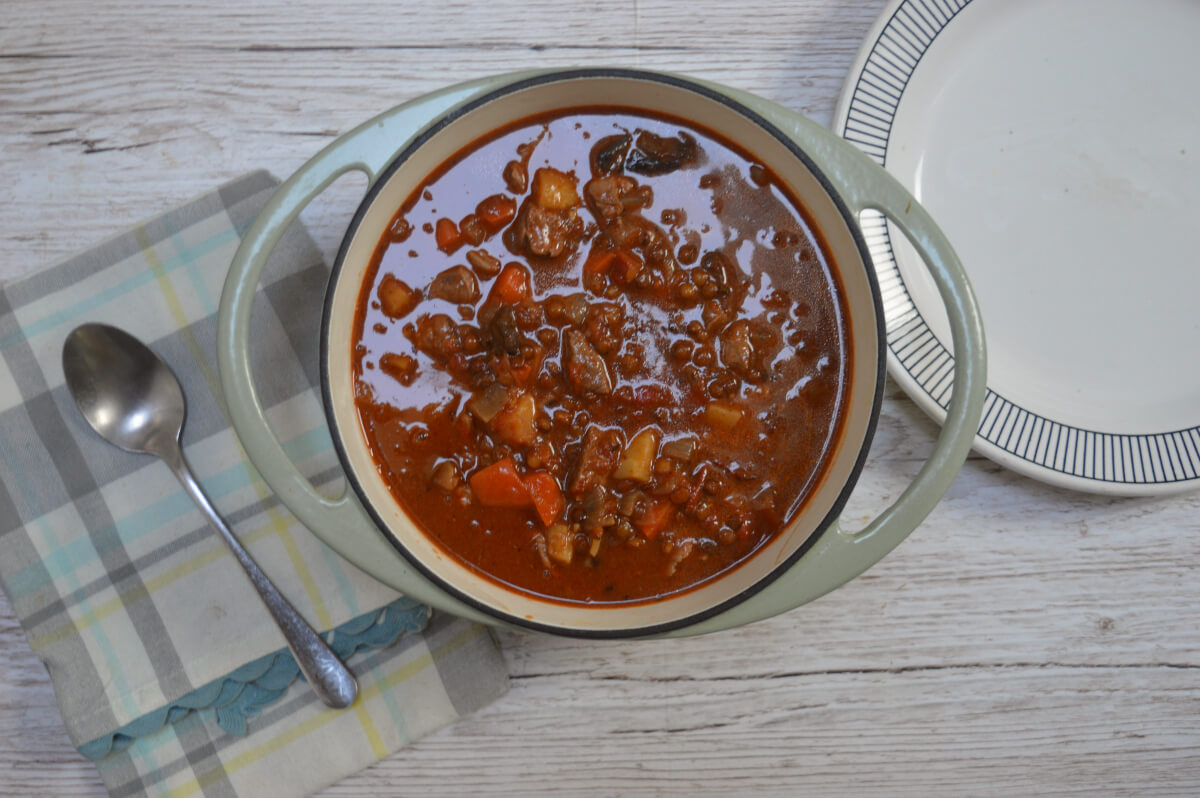 Can I freeze it?
Yes, of course, you can. Make sure you cool the stew to room temperature. Then place it in a freezer container or freezer bag and freeze for up to a month. Thaw before you reheat it in the oven.
Why not make double and freeze half?
Can I cook it in the oven instead of on the hob?
Yes, once you have browned the meat and added the other ingredients you could transfer the stew into a casserole dish and cook in the oven. Add the lentils for the last 35 minutes and check the water level occasionally.
What should I serve with it?
Lamb and lentil stew makes a good meal on its own, just serve with some crusty bread and a green salad. If you want something more hearty mashed potatoes are a perfect side dish.
Read more: