Three delicious ways to top a bagel
Ever wondered what to add to your bagel to make a tasty snack? Here are three delicious ways to top a bagel.
Did you know the 9th February is National Bagel Day? Neither did I until the New York Bakery Co. got in touch to tell me. In Britain we munch our way though over 80 million packs of bagels a year. These fun alternatives to traditional bread allow you to get as creative as you chose. Top them, layer them, toast them, they make a great snack for any time of day. Everyone has a favourite bagel topping. I am still trying to find mine so took the chance to experiment and try out three delicious ways to top a bagel.
What is a bagel?
A bagel is a round roll with a hole in the middle. It is a chewy roll with a hard crust that is made by boiling in water for a few minutes to lock in the flavour before baking. The use of different flours like rye or wheat gives the bagel different tastes. Addition of fruits can create a dessert type bagel or for a more savoury roll you can use onions or other vegetables. The resulting bagels are ideal for a snack. Toast them and add butter or top them with cream cheese and other toppings. They are easy to carry around in a lunch box and make a delicious change.
Three delicious ways to top a bagel
To celebrate National Bagel Day the New York Bakery Co. sent me a selection of their bagels and some of their ideas for inspired bagel toppings. The New York Bakery Co. offer a wide selection of bagels so you will find something to suit your needs. Choose from plain, cinnamon & raisin, sesame, red onion & chive, wholemeal, blueberry, cheese and many more. The company was founded by a baker from North America who started the New York Bakery Co. in the 1990's in Rotherham with the aim of sharing the taste of a true New York bagel with the UK. Two of these bagel toppings are from the New York Bakery Co. and the Bacon, Egg, Lettuce and tomato is my own inspired topping.
Bacon Egg Lettuce and Tomato Bagel Topping
Who doesn't love a classic BLT? Crispy bacon, crunchy lettuce and sweet tomatoes in a sandwich with mayonnaise adding extra depth makes an amazing lunch. I took the classic and topped the bacon with a fried egg cooked so the yolk was still runny and would leak out when you take a bite. With extra black pepper whisked into the mayonnaise the result was a bagel fit for a king.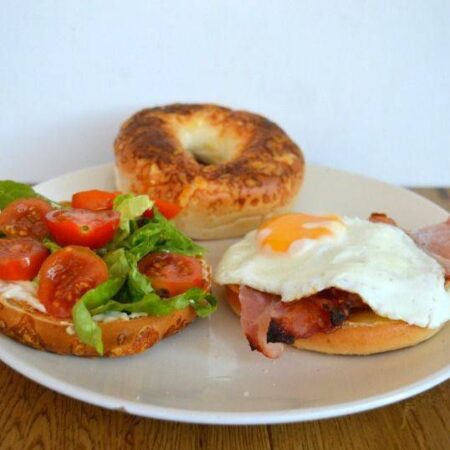 Bacon Egg Lettuce and tomato bagel
Ingredients
1

New York Bakery Co. Cheese Bagel

3

slices

bacon

4

cherry tomatoes

3

leaves

little gem lettuce

1

egg

1

tbsp

mayonnaise

Black pepper
Instructions
In a pan fry the bacon until crispy.

Toast the bagel on both sides until lightly brown

Mix the mayonnaise with black pepper and spread on the bagel slices

Shred the lettuce and chop the tomatoes and add to the bagel

Top with the bacon slices

Fry the egg and add into the sandwich.
Smoked Chicken, Sundried Tomato & Smashed Avocado Cheese Bagel
Who doesn't love smoked chicken? The addition of sundried tomato and smashed avocado add a new dimension making a tasty and healthy lunch.
Smoked Chicken, Sundried Tomato & Smashed Avocado Cheese Bagel
Ingredients
2

New York Bakery Co

.

Cheese Bagels

1

smoked chicken breast

skin removed

1

ripe

avocado

½

lime

Pinch

of salt and pepper

2

heaped tsp tomato paste

2

handfuls of spinach
Instructions
Halves the bagels and lightly toast.

Scoop the flesh from the avocado and lightly mash with a fork. Squeeze in the juice

from ½ a lime and season with salt and pepper.

Slice the chicken breast into ½ cm slices.

Spread the bagel with the sundried tomato paste; top with the smashed avocado

and sliced chicken.

Finish with a layer of spinach, place the top of the bagel on top and gently squash

down.
Parma Ham, Egg and Sriracha Cheese Bagel
Looking for a perfect breakfast or brunch idea? This parma ham, egg and Sriracha cheese bagel is perfect. It takes a little while to make but the effort is worth it. One of these bagels will keep you going all day.
Parma Ham, Egg and Sriracha Cheese Bage
Ingredients
1

New York Bakery Co Cheese Bagel

4

slices

Parma ham

2

small eggs

Sriracha hot sauce

Butter

A couple of sprigs of coriander

1

avocado

½

lime

Salt and pepper
Instructions
Preheat the oven to 180C. Slice the bagel in two and generously butter each half.

Add the bagels to a nonstick frying pan over a medium heat (buttered side down) and toast for 4

to 5 mins or until golden brown and crispy.

Scoop the flesh from the avocado and mash a little with a fork. Season with lime juice and salt and pepper.

Cut the bagel slices in half down the middle and place on a flat tray lined with foil.

Place the bagel halves side by side slightly separated and carefully line the holes with a slice of Parma ham.

Crack an egg into each Parma ham lined hole and bake in the oven until the white is set but the yolk is still runny. This should take around 8 - 10 mins.

Serve each bagel half with a little smashed avocado and drizzle with Sriracha hot sauce.

Garnish with a sprig of coriander.
Why not pin the recipes for later?
I was sent some bagels to try out the recipes, the opinions are my own.