Winter Warmer Recipe: Cowboy Pie
I love watching old westerns. The cowboys gallop across the desert passing amazing rock formations and the colours always look so bright. The bright blue sky contrasts with the orange of the rocks and occasionally you can see a giant cactus on the horizon. The cactuses are amazing, so tall they cast a shadow on the desert and little owls build their home in them. A safe place to sleep away from the hot sun.
The cowboys always have a wagon with them, full of food and driven by a cantankerous old man who does not like anyone interfering with his cooking. He has the responsibility of setting up the camp, getting the fire going and making the food. The meal is usually slopped out of a cauldron onto tin plates and eaten with a spoon. It is filling and warming, perfect after a hard day rounding up cows.
When Kikkoman got in touch and challenged me to create a winter warming one pot dish using Kikkoman soy sauce I decided to make Cowboy Pie. It is similar to cottage pie but has the addition of baked beans. I always think of beans being a stable part of a cowboys diet. It also contains the secret ingredient, Kikkoman soy sauce to add some extra depth to the taste.
For the recipe I decided to use my slow cooker so I could just leave it and come in and find it ready. If you don't have a slow cooker you can also cook the dish in the oven. Using the oven will require a little bit more preparation and slightly more than one pot as the mince should be browned before adding to the casserole dish. The slow cooker worked perfectly and the potatoes can be browned up under the grill before serving.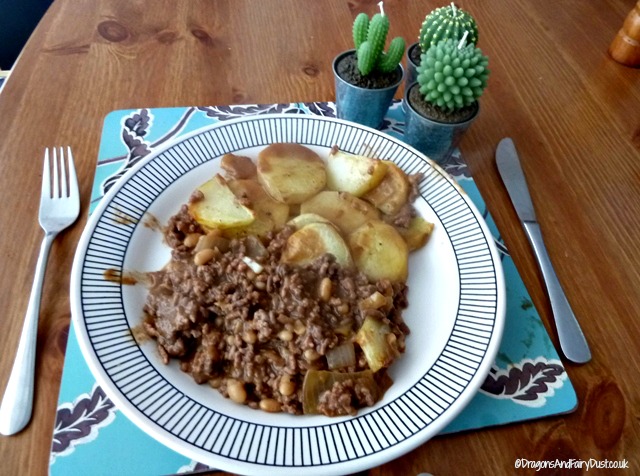 If you wanted to add a bit more comforting flavour to the dish you could sprinkle some grated cheese and black pepper on top of the potatoes when it is cooked and melt this under the grill. I didn't bother doing this, the meal was tasty enough without.
Cowboy pie is a lovely warming dish and it had a really nice depth of flavour. It is one I will be adding to my slow cooker recipe list for cold winter days when I need a meal to be ready when I come in from work.
Cowboy Pie
Cowboy Pie
Ingredients
500

g

minced beef

1

onion

2

cloves

garlic

2

tbsp

soy sauce

150

ml

beef stock

1

can baked beans

1

tbsp

flour

500

g

potatoes
Instructions
Peel and chop the onions and garlic and add to the slow cooker

Mix the flour with the beef stock until it is smooth

Add the beef and all the other ingredients to the slow cooker and mix well.

Peel the potatoes and chop into thin slices.

Top the mince with the potato slices and season with salt and pepper

Cook for 7 -8 hours in the slow cooker until the potato is tender

If you wish you can brown the top under the grill