Coconutty Chicken – Take Back the Kitchen
Coconutty Chicken is a delicious coconut chicken recipe that is easy to make from scratch. Your kids will love to make this with you.
For me the kitchen is the heart of the home. I have lovely memories of being in the kitchen as a child baking cakes and biscuits with my mum or my granny. We enjoyed our time together and I learnt valuable cooking skills.
Not only did we make cakes and biscuits but I remember my mum preparing for dinner parties. My dad's colleagues would come for a meal and my mum would prepare as much as she could in advance so she had time to spend with the guests. It was an elaborate affair with a selection of starters, main courses and desserts to cater for different dietary requirements.
I used to help her with the preparation. While the guests were there us kids had to stay out of the way, but we used to sneak in after they had dessert and help ourselves to the leftovers. In recent years I have spent happy hours in the kitchen making cakes with my son and trying to pass my love of cooking on to him.
Take Back the Kitchen
Recently Wren Kitchens got in touch regarding their Take Back the Kitchen campaign. They believe that the kitchen should be the centre of the home and a place where a family can spend time together. It should also be a place where you can cook and enjoy delicious and nutritious meals.
Sadly modern life means that a lot of time is spent rushing around and there is not always the time to get your little ones into the kitchen. Wren Kitchens did a survey of 2,000 parents with children ages 0-16 which found 3 in 4 families admit they could be eating better and 1 in 10 parents only cook from scratch and sit down for a meal once a month.
To help parents Wren Kitchens have created a Little Kitchen Hub which is full of great ideas to help your little ones get cooking, along with a downloadable e-book of recipes and inspiration. There are lots of ideas for spending time with your little ones, some of them are full day activities with crafting and shopping. There are also some great ideas for tasty and healthy recipes.
I was challenged to try out one of these ideas and got my son to help make coconutty chicken with sweet potato wedges.
Now my son is a teenager I am more aware that he will need to learn to fend for himself in the kitchen. He has figured out how to use the tin opener and I frequently go into the kitchen to find opened tins.
Teenage boys never stop eating it seems. He will need to be able to do more than open tins when he moves out of the house. When I found the recipe for coconutty chicken strips in the Little Kitchen recipe book I knew he would love to make it.
It is a really simple recipe to make. The chicken needs to be dipped in egg, flour and either coconut or peanuts then placed on a baking tray and cooked in the oven.
To go along with the coconutty chicken I decided to make some sweet potato wedges. I had half a large sweet potato left over after I had made John Waite's spiced lamb pasties.
Sweet potatoes are healthier than normal potatoes, packed with vitamins and minerals and they taste lovely as well. Potato wedges are also easy to cook in the oven and go perfectly with chicken. We added some paprika and black pepper to make them a little bit more spicy.
My son got a sense of achievement from having made most of the meal himself. I was happy that I was serving something that was tasty but also healthy. The coconut and peanut coating on the chicken is a nice twist on the traditional chicken nugget but adds a sweeter flavour.
The original recipe called for the peanuts to be crushed into small pieces in a blender but I had some Gado Gado mix left over from when I made Gado Gado salad.. This consists of crushed peanuts with a few extra spices and it made a lovely coating for the chicken.
Coconutty Chicken with Sweet Potato Wedges Recipe
Coconutty chicken
Ingredients
50

g

dessicated coconut

55

g

peanuts

28

g

flour

1

large egg

400

g

chicken strips

cut chicken breast into pieces
Instructions
Preheat the oven to 200C Gas mark 6

Grease two baking trays and line with baking parchment

Crush the peanuts into small pieces using a blender

Add the flour, coconut and peanuts to separate bowls.

Beat the egg in another bowl.

Take a strip of chicken dip it in the egg, then the flour then either the coconut or peanut mixture.

Place on a baking tray and repeat until all the strips are covered

Sprinkle with salt and pepper and cook in the oven for fifteen minutes

Serve with lemon wedges to squeeze over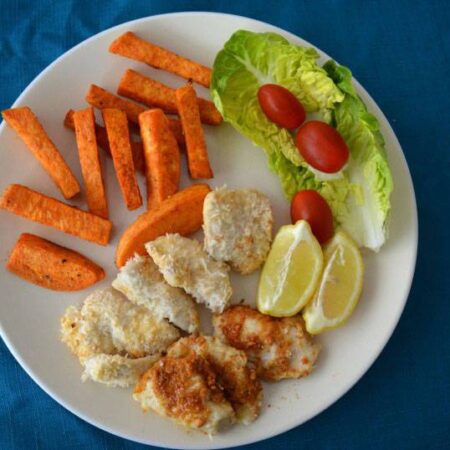 Sweet potato wedges
Ingredients
2-3

sweet potatoes

2

tbsp

olive oil

salt and black pepper

2

tsp

paprika
Instructions
Preheat the oven to 200C Gas Mark 6

Cut the sweet potato into wedges

In a large bowl toss the potato wedges with the oil, paprika and salt and pepper

Place on a baking tray and bake for about 30 minutes until soft
Linking with the kitchen clearout linky on Madhouse Family Reviews as I managed to use up my Gado Gado sachet.
Save
Save