Madeira Cake from Kiss Me Under the Mistletoe by Fiona Harper
Madeira Cake is a simple and delicious sponge cake with a lemon flavour. This recipe takes inspiration from the latest book I read.
Over Christmas I took the chance to catch up on my reading. It is not often I read chicklit but I found a few Christmas themed novels in my reading pile. One of these was Kiss Me Under the Mistletoe by Fiona Harper.
The book is about Louise, a former model who is married to a famous actor, Tobias Thornton. She appears to have the perfect life, money for everything she needs and a gorgeous son. Louise is fed up with her husband's affairs and on learning of his latest one decides to ask him for a divorce. She wants to start a new life away from the paparazzi and take charge of her life. She buys an estate in Devon, Whitehaven, previously owned by an iconic British actress, intending to make the perfect home for her and her son.
Ben has been looking after the garden on the estate as part of a promise made to the previous owner. Aware that the estate has been abandoned for years and not aware it has been sold he is taken aback to be ordered off the grounds by Louise, the new owner. Ben is also going through a tough time, his wife has left him and gone off to find herself. He is left juggling his job with the demands of looking after his daughter. The last thing either of them are looking for is love.
Intermingled with the story of Ben and Louise is the story of the previous owner of Whitehaven. Louise comes across her diary whilst clearing out the house and reads all about her life. The two stories run alongside each other adding another dimension to the plot. It is a good read and leaves you guessing if the two will find love or let their past get in the way until the end.
One thing the book is not short of is food. Louise is a perfectly capable cook and loves baking. Raspberry and lemon muffins, jam doughnut muffins or fairy cakes, they all appear in abundance. I had no difficulty deciding which recipe to make from the book as Fiona Harper had kindly included her recipe for Madeira Cake at the end of the book. Madeira cake is a cake I have always intended to make but never got round it. It is a deceptively plain looking cake, the magic happens when you bite into it. One slice is never enough.
Madeira cake has a long crack down the middle which gives it a distinctive appearance. Traditional Madeira cake uses lemon as the flavouring, I substituted orange in this recipe which is just as tasty. The citrus taste works well with the sugar crust that forms on top of the cake as it bakes making you crave more than one slice. It also takes an hour to bake. The smell of it cooking whilst it bakes will ensure you put the kettle on almost as it leaves the oven. The waiting for it to cool seems to take forever.
Madeira Cake Recipe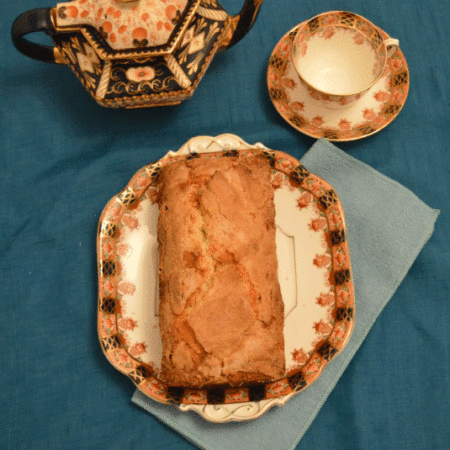 Madeira Cake
Ingredients
240

g

8½ oz softened butter

200

g

7oz golden caster sugar plus extra for dusting

210

g

7oz self raising flour

90

g

3oz plain flour

3

eggs

Grated zest and juice of one orange

Few drops of vanilla extract
Instructions
Preheat the oven to 17OC Gas 3

Butter and line a 450g (1lb) loaf tin

Cream together the butter and sugar

Add the orange zest and vanilla extract

Add the eggs one at a time

Mix in the flour and the orange juice

Spoon into the loaf tin and sprinkle with a couple of tablespoons of sugar.

Bake for an hour or until a skewer comes out clean

Cool in the tin on a wire rack
Enjoy with a cup of tea. For other bakes from books why not try some chocolate brownies from a Prayer for the Dead by James Oswald.
Linking up to ReadCookEat over on Chez Maximka.