Autumn Walkies with Hotter Boots
Taking your dog for Autumn walkies with Hotter boots is a great way for you both to enjoy a walk. They are so comfortable the walk can go on and on.
The long hot days of the Summer are fading into memory as Autumn arrives. The trees are turning beautiful shades of red and gold. The days are getting shorter and the mornings colder. When I take my dog for his morning walks I can really feel the nip in the air.
It is time to put away the summer wardrobe and pull on the winter boots. Boots are such an important item as the season changes. There is nothing worse than having cold wet muddy feet on a morning walk. You need something to keep your feet warm and toasty. Wet feet can leave you feeling miserable all day.
Recently Hotter Shoes invited me to try a pair of their boots when I took my dog for his morning walk and see how I got on. My dog was so excited at the chance for a walk.
Autumn walkies with Hotter boots
I am a great fan of Hotter shoes. They make really comfortable shoes in a range of fittings that cater for wider feet. I have tried out their shoes previously and been really impressed. They look stylish. They also last for ages. I do a lot of walking and can go through a lot of pairs of shoes. My Hotter shoes have seen me through lots of miles over the Summer and still look good. I was hoping for great things from their boots.
Read more: Ten things you didn't know about Hotter Shoes
I chose a pair of Melody boots from Hotter shoes. They look really cosy with their leather uppers and faux fur inners and I was not disappointed. They envelope my feet like a warm hug keeping my feet toasty. Walking in them feels like walking on air. The boots are RRP £99 and are well worth the price. They are make in Britain and really well made. I know they are going to last.
The Melody boots are available in UK sizes 3 to 9 and half sizes are available between 4.5 and 7.5. This helps you get the best fit. The boots have two buckles on the side which are for show and a zip on the inner side so you can get them on and off easily. The boots are so comfortable with plenty of room for my toes. They look stylish as well.
If you are unsure about buying hotter boots Hotter Shoes have a 100% happy policy. If for any reason you're not 100% happy, you have 90 days to send your order back for a refund or exchange.
Read more: Rescuing hedgehogs with Hotter Shoes
Walkies with my dog
I took my dog for a long walk round our local country park to try out my new boots. Eddie was really excited to be out and about. He loves the Autumn when its dry, there is so much for him to sniff and discover. He is not so keen when its raining though.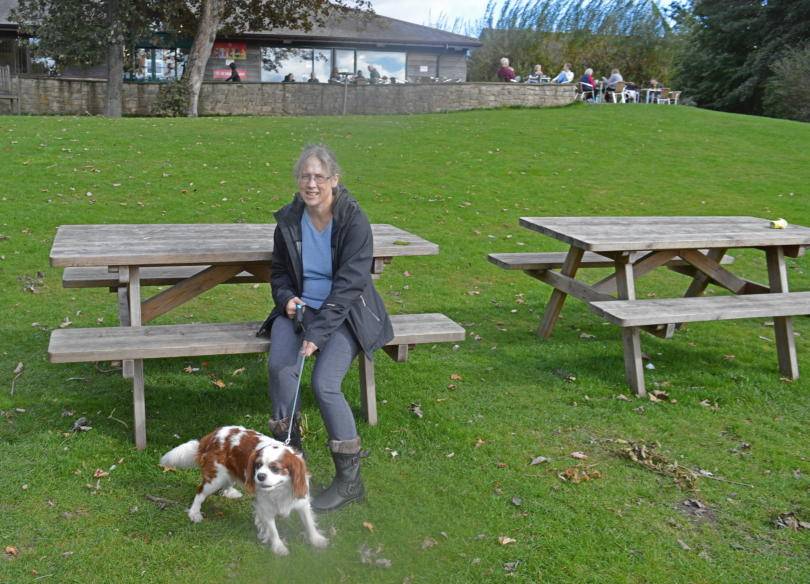 The Rising Sun Country Park is a great place to take your dog for a walk. Set in the heart of North Tyneside this 162 hectare area park is full of interesting walks suitable for all weathers. You never know what you will discover round the next corner. There are lakes, one with a hide for bird watching, woodland, grassland and even a farm. The farm is well worth a visit as you can visit the farm animals and buy organic produce. You can even get up close to some birds of prey in the bird of prey centre.
Read more: Discovering birds of prey in North East England
Eddie and me are pictured beside the Rising Sun Cafe, which is in the visitor centre. It is a lovely place to stop on a warm day. The cafe also has a children's play area and views across the lake.
Have you tried Hotter boots? What did you think? Let me know below.
[shopr_shopthepost collection="winter-boots" size="medium" title="Shop for winter boots" show_product_title="yes"]]
Why not pin for later?
I was sent a pair of boot to try out for review. I was not obliged to say anything nice but I love Hotter shoes and would buy them anyway as they are so comfy.