Quick and easy teriyaki chicken
Teriyaki chicken was a meal I was first introduced to when visiting a restaurant with friends. It was one of those fusion restaurants where they mix cuisines from two cultures to come out with a new and memorable dish. The main cuisine was Japanese and the food was cooked in front of us. Knives were wielded as food was chopped quickly. Sizzling woks were shaken and food whizzed though the air. I do not remember the name of the restaurant or where it was as it was a few years ago now. I do remember eating teriyaki chicken. It was a delicious meal, chicken cooked in a skillet and glazed with a sweet sauce.
Teriyaki chicken
I had never tried making teriyaki chicken at home. Recently when making sushi I saw a recipe for quick and easy chicken teriyaki on the side of the bottle of Yutaka mirin. Mirin is a type of rice wine that is similar to sake with a lower alcohol content and a higher sugar content. It is often used in Japanese cooking and has a sweet flavour. One of the main ingredients in teriyaki sauce is Mirin. The name teriyaki comes from teri meaning gloss and yaki meaning boil or grill and the sauce is used to gloss the meat.
The sauce is very simple, it is made from a mixture of mirin and soy sauce. Cut the chicken into pieces and leave it to marinade for ten minutes. Then cook the chicken in a pan until it is done. Finally the rest of the marinade is put in the pan and cooked until the sauce thickens. The whole meal was ready quickly and very tasty. Teriyaki chicken can also be made under the grill. Grill the meat until it is done and then brush it with the sauce. Cooking the chicken in a pan makes it moist and it seems to absorb more of the flavour of the sauce.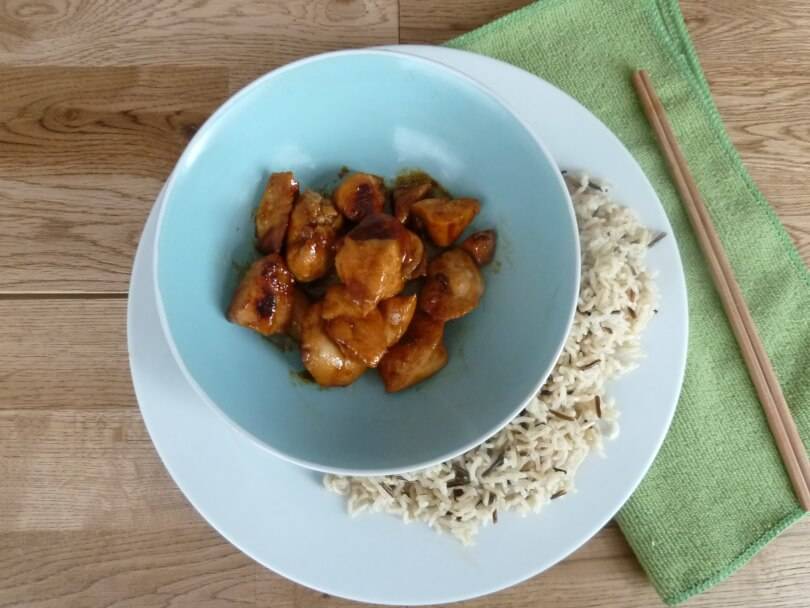 Teriyaki chicken recipe
Chicken teriyaki is a very quick and easy meal to make. It is perfect for a midweek meal when you do not feel like cooking something complicated. Served with rice and a salad and you have a tasty dinner which only takes around half an hour to make.
Quick and easy chicken teriyaki
Ingredients
600

g

chicken

1

tbsp

cooking oil

2

tbsp

mirin

white wine or dry sherry can be used instead

2

tbsp

soy sauce
Instructions
Mix together the mirin and soy sauce

Chop the chicken into pieces

Marinade for ten minutes

Heat the oil in a pan and add the chicken

Why not pin the recipe to make later?
Have you made chicken teriyaki before? What did you think?