How to make a Cuban Midnight Sandwich
Being a foodie I love to watch programs about food and recently I watched the film Chef. If you have not seen it the film is about chef Carl Casper who works in a restaurant in Los Angeles. A famous food blogger is coming to visit and the chef is planning an amazing menu in order to impress him.The owner of the restaurant has other ideas and insists that he sticks to the tried and tested menu.
The blogger writes a bad review which goes viral on social media. Carl ventures onto social media to try and save his reputation. He ends up walking out of his job due to the overbearing restaurant owner. When trying to decide what to do next he accompanies his ex wife and son to Miami and ends up with a food truck. Renovating the food truck and taking it around America with his son he rediscovers his passion for cooking. It also enables him to rekindle the bond with his son. It is an enjoyable film and well worth a watch.
What is a Cuban midnight sandwich?
A large part of the film is made up of the Chef teaching his son to cook the ultimate sandwich to serve on the food truck. This sandwich is a Cuban midnight sandwich or Medianoche. Originating in Cuba it gains it name from being served in Havana's night clubs around midnight. The sandwich is made with ham, roast port, swiss cheese, pickles and mustard served on Cuban bread. The sandwich is toasted until the outside is crisp and the cheese melts.
I decided to try and recreate the Cuban midnight sandwich just to see what it was like. My take on the Cuban midnight sandwich uses panini's instead of Cuban bread. Cuban bread has a crisp crust and a soft inside and is usually shaped like a baguette. I thought panini's would make an acceptable substitute.
How to make a Cuban Midnight Sandwich?
To make the sandwich I mixed mayonnaise with Italian dressing and spread it on the inside of the panini. If you are not able to get Italian dressing it is very easy to make your own. It is a simple vinaigrette dressing with lemon juice and herbs. The herbs add a lovely flavor to the mayonnaise. One side of the bread is then spread liberally with mustard. Next layer up slices of ham, slices of chicken and then slices of Swiss cheese. Finally add a few gherkin slices. Place the top on the sandwich and brush with melted butter. Finally toast the sandwich until the cheese melts.
The sandwiches do take a little bit of effort to make but it is worth it. The mustard and herbs in the sauce perfectly complement the filling making it a slice of sandwich heaven.
Cuban midnight sandwich recipe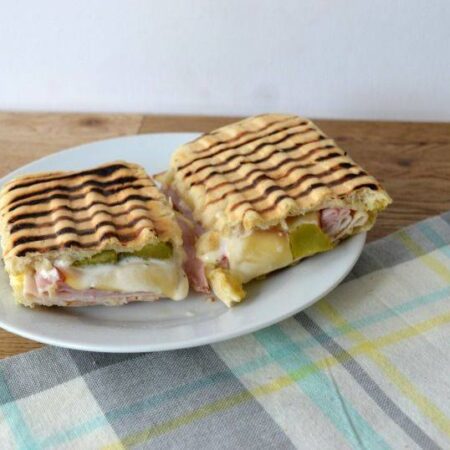 Cuban Midnight Sandwich
Ingredients
2

Panini's

2

tbsp

mayonnaise

3

tsp

Italian dressing

Mustard

Sliced ham

Sliced chicken

Swiss Cheese

Gherkin slices

Butter
Instructions
Chop the Panini's in half.

Mix the Mayonnaise with the Italian dressing and spread on each side of the Panini

Spread a layer of mustard on one half of the Panini

Add slices of ham, slices of chicken, slices of cheese and gherkin slices to the sandwich

Put the top slice of Panini on the sandwich and brush both sides with melted butter

Toast the sandwich until the cheese melts
If you are looking for other sandwich ideas why not try cheese savoury sandwich filling? This is a sandwich filling that is local to North East and is really tasty. Alternatively why not try a toasted cheese sandwich with cherry tomato and spring onion?
Why not pin the recipe to make later?
What is your favourite sandwich filling? Let me know below.