Making raspberry jam is quite easy. Home made jam is delicious and tasty and it is well worth giving it a try. It is a great way to use up raspberries.
I don't know why I have never attempted to make jam. It always seemed like an arcane magic that I should not attempt.
It is strange as I always remember my mum in the kitchen cooking up jams, jellies and chutneys though out the summer. We would go out into the country and forage, collecting elderberries, rose hips, blackberries and anything else that grew.
My mum would spend ages in the kitchen, a big preserving pot bubbling on the stove and jars were filled and put away. Over the winter the jars gradually appeared, blackberry jelly with a roast dinner, green tomato chutney with a curry. It added flavour to a meal and brought back the taste of summer in the winter months.
Making Raspberry Jam
This year I have copious amounts of raspberries in the garden. I feel a bit like I have the magic porridge pot. Every day I go out and pick the ripe raspberries and the next day just as many have appeared to replace them. I love raspberries but you can only eat so many in one go.
Luckily they freeze and my freezer is now filled with freezer bags full of raspberries. I decided it was time to try and make raspberry jam.
Luckily I have a preserving pan I inherited from my grandmother. It is the perfect size for making jam and sturdier than the preserving pans you can buy today. I normally use it to make a big vat of pot luck soup. It is the perfect size for throwing in a ham joint and loads of vegetables.
It was time to put it to its proper use. Searching though my recipe books I found a lovely simple recipe for raspberry jam that my grandmother had written on a piece of paper and left inside a book.
I did get distracted reading my grandmothers recipe books. They are full of interesting pictures of old range stoves and recipes that are no longer in fashion. I am going to have to try some of these soon. Some of the recipes for cakes I remember on the table when we used to visit at the weekend, it brought back some lovely recipes.

How to make raspberry jam
I always thought jam was a complicated affair involving pectin which had to be added separately. I had read horror stories about jam being too runny or too stiff if not cooked correctly. Pectin caused the jam to set and some fruits have it in abundance.
Apparently raspberries are one of these as this recipe just used raspberries and sugar. It seemed a bit odd adding raspberries into a pan with no water but the juice soon floods out and you get a liquid that can be bought to a boil. When it is boiling the sugar is added and cooked until setting point is reached.
Read more: How to make crab apple jelly
How do you know if the jam is at setting point?
Finding the setting point was one of those things that always put me off making jam. There are plenty of ways to do it depending which book you read.
One of the most common is to use the saucer test. This involves putting saucers in the freezer and when you are ready to test the jam place it onto the cold saucer. If it is ready to set then it should wrinkle when you push it with your finger. This sounded like it might result in broken saucers from freezing them too long.
I decided to rely on my sugar thermometer and trust that when the jam reached 104.5C (220F) it would set. It did seem a bit runny at first but once it had cooled it set and was a lovely consistency.
How do you sterilise the jars for jam?
When it had cooled slightly I spooned the jam into sterilised jars. I usually pour boiling water into the jars, leave them to sit for a couple of minutes and then put then into the oven at 150C, Gas Mark 2 while I make the jam.
The hot jam should be put into the warm jars. Sterilising them will prevent mould forming on the jam. T
he finished jam was delicious spread on home made bread. It was full of the taste of raspberries and brought a touch of sunshine to morning breakfast. I am definitely going to try and make jam again soon.
Raspberry Jam Recipe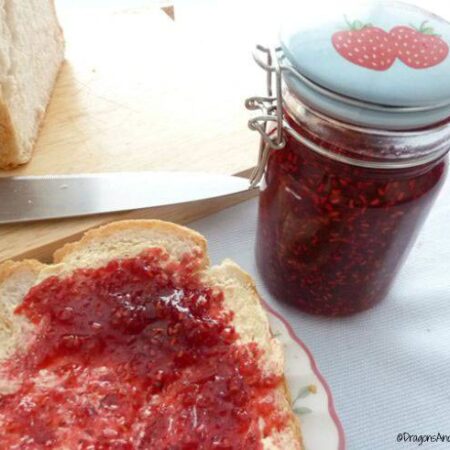 Raspberry Jam
Ingredients
900

g

2lb raspberries

900

g

2lb granulated sugar
Instructions
Put the raspberries in a pan and heat gently. Bring to a boil and simmer for a few minutes.

Add the sugar to the raspberries and stir until the sugar dissolves.

Bring to a boil and keep boiling until the setting temperature is reached.

Remove the jam from the heat and let stand for a few minutes.

Skim off any scum then spoon into sterilised jars and seal.
Have you ever made jam? How do you test to see if it is set?