Neep and tattie soup is a delicious soup made with turnip (neeps) and potatoes (tatties). Made with winter vegetables, it is the perfect warming soup for a cold day.
Are you looking for an easy warming soup for the winter? Not sure what to make? Why not try this delicious neep and tattie soup? Easy to make with ingredients you may already have in your fridge, it makes a delicious and filling lunch. Read on to find out how to make it.
Neep (mashed turnip) and Tatties (mashed potatoes) is a traditional Scottish dish. It was often found on the table of poor crofters. You can understand why. Root vegetables would have been easy to grow in harsh conditions and a reliable winter crop. Tasty and filling, it goes with any type of meat or poultry, although haggis is traditional.
Neep and Tattie Soup
Neep and Tattie soup turns this traditional Scottish dish into a warming winter soup. It also provides some of your five a day in a tasty way.
During this cold weather, I have been making lots of soup. When I take the dog out in the morning I have to be careful not to slip on the frosty paths. I come in with cold fingers and toes. Soup makes a perfect warming lunch on days like these.
My son was not impressed that I was making soup. He told me he was starving and why could I not open one of the packets of soup in the cupboard. Apparently making soup from scratch takes too long and he could not wait. Being a cruel mother I made him wait until it was ready, it did not take that long.
When the soup was ready he loved it and managed to devour two bowls. He said that the soup tastes sweet, and he was right. It has a touch of earthy sweetness that makes it more warming. It is the ideal soup for a winters day. Perfect for eating when the wind is howling around the house and you can rejoice in the fact you are inside.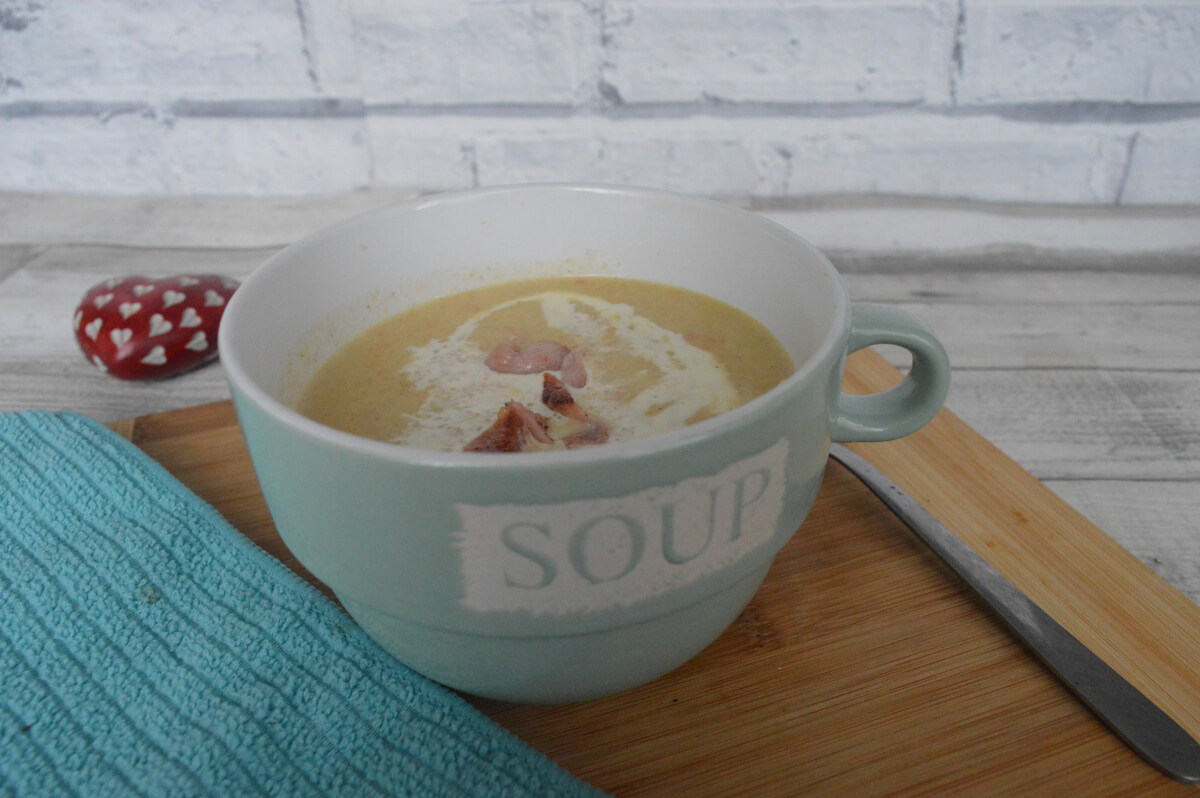 What are neeps?
There is some confusion about what neeps are. In Scotland, the Scottish turnip or neep is the same as the English swede. It has a round shape, a purple-green skin and the flesh is orange. It's also known as a yellow turnip, Swedish turnip, Russian turnip and rutabaga.
You can also get smaller white turnips which in Scotland are new turnips.
How to make Neep and Tattie Soup
Potato and swede soup is easy to make. You chop up the vegetables, cook them in water until they are soft and puree them in a food processor. Some milk is then added to make the soup more creamy.
Finish with some chopped up bacon and a swirl of cream. If you want to be more traditional you could crumble some cooked haggis onto the top.
I have set out the steps in detail below, don't forget to scroll down to get the full printable recipe card.
What Ingredients do I need?
Vegetables – potatoes, carrots, celery, onion and swede.
Butter – to fry the vegetables.
Water – to cook the vegetables in until they soften.
Spices – coriander and mixed spice. These add a touch of sweetness and make the warming flavour of the soup.
Milk – to make the soup creamy.
Cooked bacon and double cream – to finish off the soup as a garnish and make a creamier flavour.
Equipment needed
Sharp knife – to chop the vegetables
Potato peeler – to peel the vegetables. You can use a knife instead but I find a peeler easier
Chopping board – to chop the vegetables on and save your surfaces!
Measuring Jug
Kitchen scales
Large Pan.
Food Processor – to puree the vegetables
Steps to Make the soup
Peel the potatoes, onion and carrot. Chop them into small pieces along with the celery.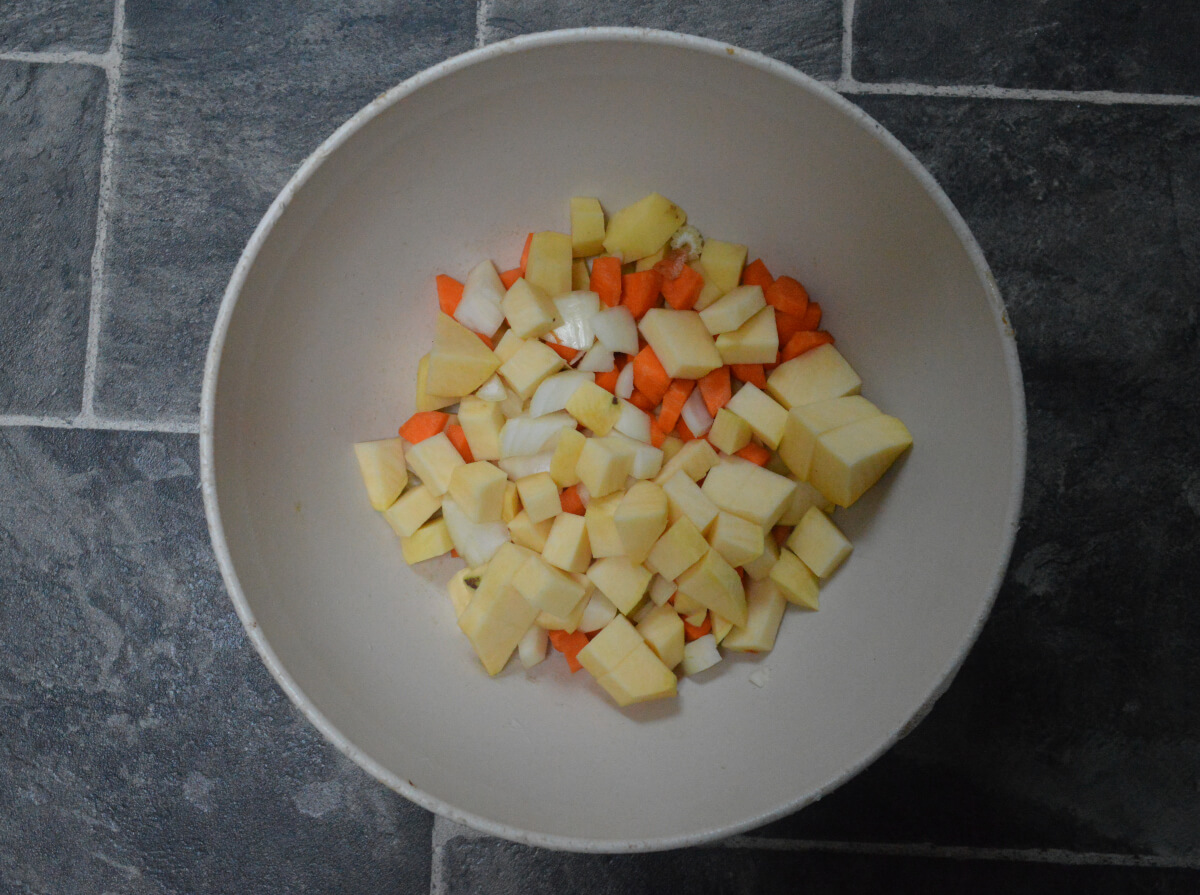 Melt the butter in a pan
Add the vegetables and fry for around five minutes.
Add the water to the pan and bring it to the boil.
Simmer for around 20 minutes until the vegetables are soft.
Season with salt, pepper, mixed spice and corriander. Add the vegetable mixture into a food processor and blend until smooth.
Put the pureed vegetables back into the pan.
Season with salt, pepper, corriander and mixed spice and add the milk.
Cook the bacon or haggis and chop into small pieces. Stir the double cream into the soup and serve in bowls, topped with the bacon pieces.
Why not pin for later?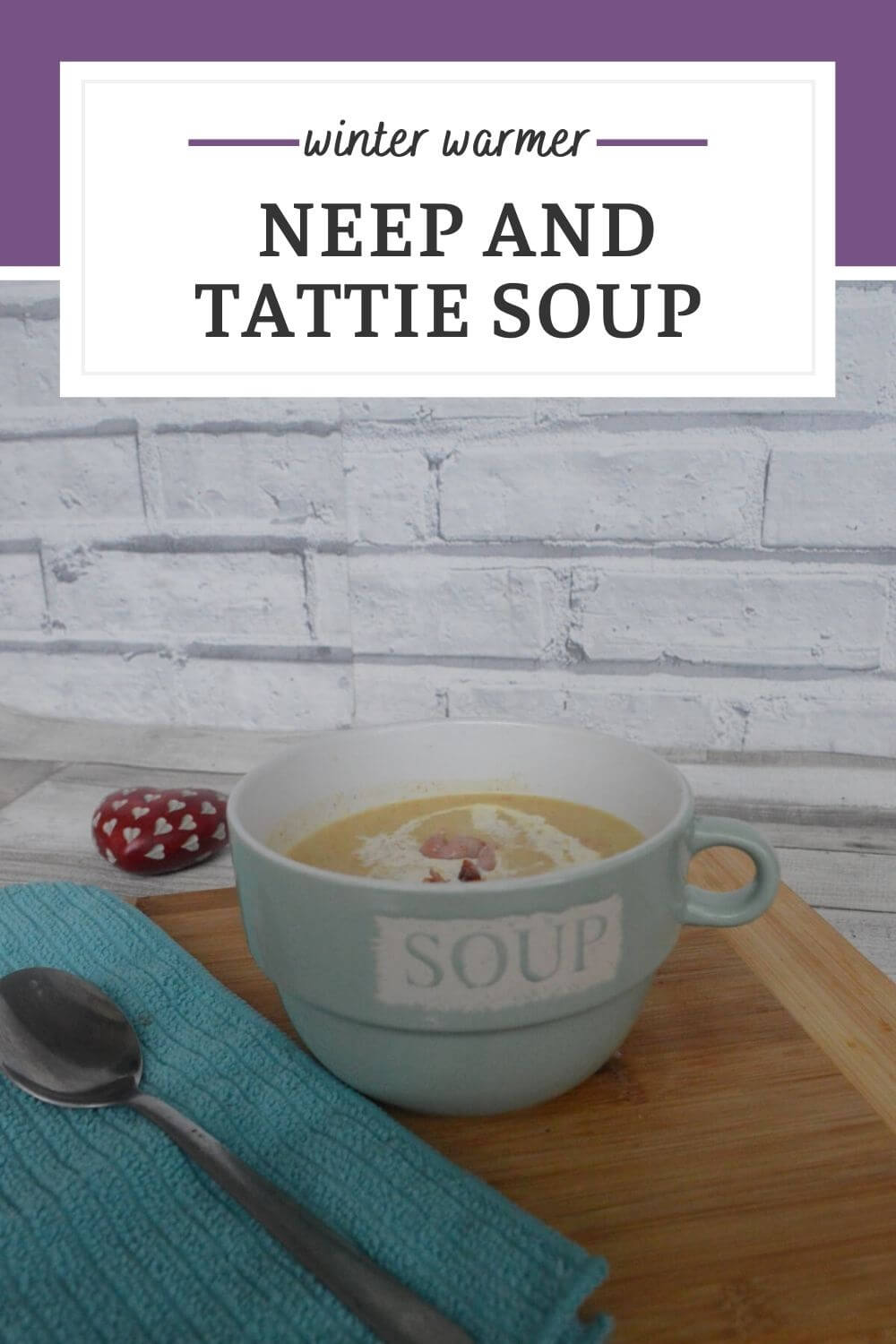 Neep and Tattie Soup Recipe
Neep and Tattie soup
This is a delicious and warming soup make from root vegetables. Perfect for the winter.
Equipment
Sharp knife

Chopping board

potato peeler

Measuring Jug

Measuring scales

Large pan

Food Processor
Ingredients
25

g

butter

¼

tsp

ground corriander

1

onion

½

swede

around 200g, 7oz

1

carrot

1

celery stick

140

g

potatoes

1

tsp

mixed spice

400

ml

milk

chopped cooked bacon or haggis

2

tbsp

double cream

400

ml

water
Instructions
Peel and chop the vegetables into small pieces

Melt the butter in a pan, add the vegetables and fry for around five minutes

Add the water, bring to the boil and simmer for around 20 minutes until the vegetables are soft

Season with salt, pepper, coriander and mixed spice.

Place in food processor and blend until smooth

Put the blended vegetables back into the pan and add the milk.

Cook the bacon or haggis and crumble into pieces.

Warm the soup and stir in the double cream

Add to a bowl and top with the bacon or haggis.
Notes
You can use crumbled haggis instead of chopped bacon. Serve with crusy bread
Can you freeze neep and tattie soup?
Yes, you can feeze the soup but without the bacon sprinkled on top. When you are ready to reheat it, thaw out, reheat in a pan and add the bacon when you are ready to serve.
Why not make neep and tattie soup for Burns night?
January 25th is Burns Night, a celebration of the life of Robert Burns, a Scottish poet. In Scotland, a traditional Burns supper celebrates Burns Night. It is a time to celebrate Scottish heritage with traditional Scottish fare. The star of the meal is haggis served with neeps and tatties. The haggis has such a starring part that a piper pipes it in with bagpipes. The host then recites the address to the haggis.
Address to the haggis
I have some Scottish roots in the family and have been to Scotland many times but I have never been to a Burns Night. On a trip to the Highlands we got a feel for how difficult life must have been for the crofters in days gone past. While the scenery is stunning it must have been hard to make a living, especially in the winter months. It was remote enough when visiting by car, it must have been hard to commute from town to town via horse or on foot.
If you like this recipe ..
..you might also like: