Regional Recipes: Lardy Cake
One thing that is great about Britain is the range of recipes that you will find along along it's length. Each county and country within the island have not only developed their own unique accents and traditions but their own special regional recipes. Many of these recipes are commonplace but some are less well known. Most of them have been born out of necessity, at a time when cooking was done over an open fire using pots and hooks. Life was hard, there were no washing machines or ovens. Families worked hard, often in coal mines and other physical industries and there was no heating, water for washing had to be warmed on the fire. Meals were simple and nothing was wasted.
I have previously recreated some regional recipes from the North East region. These were recipes with lyrical names. Singing Hinnies, a fried scone and Pan Haggerty which is a filling mix of potatoes, onions and cheese. I find it fascinating discovering these regional gems. This month I have recreated Northumberland Lardy Cake.
Read more: Traditional recipes from North East England.
Lardy cake is not really a cake, it is a bread made with lard, sugar, fruit and spices. The dough is rolled out, the filling spread on and the dough rolled again. The technique is a bit like making puff pastry. The recipe is generally associated with Wiltshire, but is is also made in Northumberland. The main difference seems to be that the recipe for Northumberland lardy cake uses milk.
Lard is not commonly used these days but 300 years ago families would tend to keep their own pig which was fattened until it was time for slaughter. None of the animal could be wasted, the fat deposits were used to make lard which was used for cooking. Sugar was expensive so lardy cake was made for special occasions like harvest time. It also lasts well in a tin and I can imagine it being kept as a special treat.
I wasn't sure how my attempt at a lardy cake would turn out. Bread is not something I make regularly and this seemed a bit more of complex recipe. My last attempt at home made bread worked quite well but recently I have been using my bread maker which makes things much simpler and allowed me to try a cider apple bread which was a nice treat. This time I make the bread from scratch.
The lardy cake is actually quite simple to make, the flour, salt and yeast are added into a mixing bowl. Some of the lard and the milk is warmed on the stove, taking care not to make the milk too hot. Yeast is temperamental, it likes warmth to activate it but if the milk is too hot then the yeast will not make the bread rise. Body temperature is pleasant for it and makes it do a good job. The mixture is then kneaded together to form a dough. I always find this part relaxing, moving my hands in the dough until it mixes together and forms a ball. You can have fun stretching the dough and squashing the dough, it is a great way to work off tension. The dough needs to then be left in a warm place to rise, after an hour it should double in size.
Then the fun starts, the fruit is gently kneaded into the dough. This needs to be done gradually, the fruit takes on a life of its own trying to escape from the dough. Once all the fruit has been captured the dough needs to be rolled out into a rectangle. Half the filling is sprinkled on and the dough is then folded into thirds, rolled out again. More filling is sprinkled on the dough folded again and then it can be shaped to go into the tins. It can't be baked just yet, you need to leave it to rise again.
The wait is worth it though, whilst baking the air is filled with a gorgeous smell. The finished bread is delicious and can be eaten warm with custard or cold like a bread. In fact is was so delicious that half of the loaf was eaten before I managed to take a photograph. The original loaf was twice the size. This is definitely a recipe to be made again, but for a special occasion as I am sure it is filled with calories.
Lardy Cake Recipe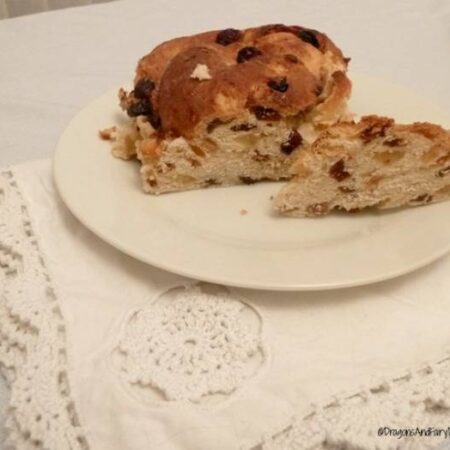 Lardy Cake
Lardy cake is a traditional English tea bread, full of fruit and spices for a lovely tea time treat.
Ingredients
500

g

1lb plain strong white flour

½

level tsp salt

1½

tsp

dried yeast

150

g

5oz lard

60

g

2oz granulated sugar

300

ml

½ pint warm milk

375

g

16 oz mixed dried fruit

125

g

4oz soft brown sugar

1

heaped tsp mixed spice
Instructions
Add the flour, yeast and salt into a large bowl.

Add the milk, granulated sugar and 30g (1 oz) of the lard to a pan. Warm gently until the lard melts, Be careful not to boil, the milk should be at body temperature. If it is too hot allow it to cool a little.

Add the milk mixture to the flour mixture and mix into a dough, Knead until it all comes together then form into a ball and leave in a warm place for an hour until it doubles in size.

Place the dough on a floured work surface and gradually knead in the fruit.

Roll the dough into a large rectangle.

Mix together the remainder of the lard, the brown sugar and the spice.

Spread half this mixture over the surface of the dough, then fold the dough in three. Lift the right corner into the middle then lift the left corner over the top.

Roll out again, spread out the rest of the filling then fold the dough in the same way again.

Roll out to a rectangle then roll up like a swiss roll. Wrap the roll round to make a round shape.

Place in 6 inch cake tin which has been greased and lined with baking parchment.

Bake for fifty minutes or until cooked though.

Leave to cool on a wire rack.

Leave the dough to sit until it doubles in size.

Preheat the oven to 220C, Gas Mark 6
Read more: